Returnable White Opaque Mailing Bag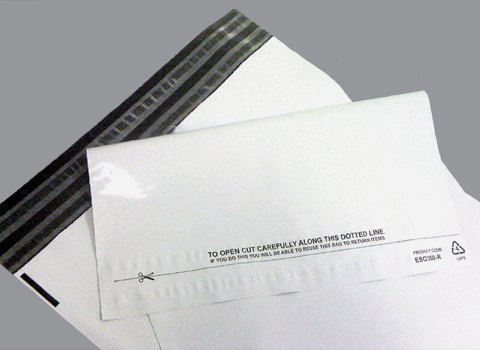 Bayard Packaging's Returnable White Opaque Extra Strong Mailing Bag, allows your customer to return a product in the same packaging it was delivered in, protecting the product on it's return trip, making sure minimal damage occurs.
Returnable mailing bags are used by top online and mail order retailers to deliver goods such as clothing, textiles, books etc.
The returnable mailers, have the following printed instructions on the front of the flap:

TO OPEN CUT CAREFULLY ALONG THIS DOTTED LINE
IF YOU DO THIS YOU WILL BE ABLE TO REUSE THIS BAG TO RETURN ITEMS

This will ensure the customer opens the bag in the correct place, enabling them to reuse it, to return goods to you.
The returnable mailing bags/envelopes incorporate 2 permanent self-seal closures and are made from an 70 micron co-extruded multi-layer low-density polythene, making them totally opaque.

They are high in strength, whilst still offering a low posting weight and are also weather-proof, burst and puncture resistant.
The Returnable Mailing Bag is available in 360mm x 430mm + 65mm Flap 70 micron boxed in 250s.
Please contact us for a free sample of this new item!

These mailing bags are 100% recyclable and are manufactured in the UK.
These Black/White Co-Ex mailing bags are produced using a 55 micron 3 layer co-extruded material meaning they are 100% opaque and super tough...Exceptional quality at a great price!

This product is 100% recyclable, if your local authority does not recycle plastic bags there are recycling bins at most supermarkets.

Learn More