Sugarcane Mailers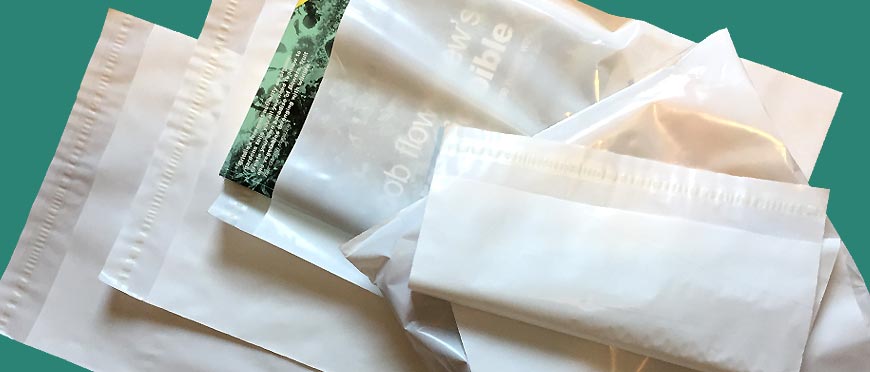 These mailing bags have been produced with GREEN™ Polyethylene, plastic that has been produced from sugarcane, meaning that these mailing bags have been produced from renewable resources that will make a significant contribution to reducing greenhouse gas emissions throughout the chain.
GREEN™ polyethylene is a renewable alternative to standard polyethylene, a thermoplastic resin largely used for packaging in consumer goods industries, such as food and beverage, cleaning and personal care products, as well as toys, trash containers and plastic bags.
At the end of its lifespan, Green Polyethylene can be recycled in the same chains already developed for conventional Polyethylene.
We are in the process of changing our website, please visit www.bayardpackaging.com to order this product.

These mailing bags have been produced with GREEN™ Polyethylene, plastic that has been produced from sugarcane, meaning that these mailing bags have been produced from renewable resources that will make a significant contribution to reducing greenhouse gas emissions throughout the chain.

PRICES ARE PER PACK OF 100

White Sugarcane Mailing Bags.

250mm x 350mm - 10" x 14"

60 micron thickness

Permanent Self-Seal Closure

100% recyclable.

Learn More

These mailing bags have been produced with GREEN™ Polyethylene, plastic that has been produced from sugarcane, meaning that these mailing bags have been produced from renewable resources that will make a significant contribution to reducing greenhouse gas emissions throughout the chain.

PRICES ARE PER BOX OF 250

White Sugarcane Mailing Bags.

304mm x 405 - 12" x 16"

60 micron thickness

Permanent Self-Seal Closure

100% recyclable.

Learn More

These mailing bags have been produced with GREEN™ Polyethylene plastic that has been produced from sugarcane, meaning that these mailing bags have been produced from renewable resources that will make a significant contribution to reducing greenhouse gas emissions throughout the chain.

PRICES ARE PER PACK OF 100

White Sugarcane Mailing Bags.

325mm x 480mm - 12.75" x 19"

60 micron thickness

Permanent Self-Seal Closure

100% recyclable.

Learn More