Charity & Sponsorship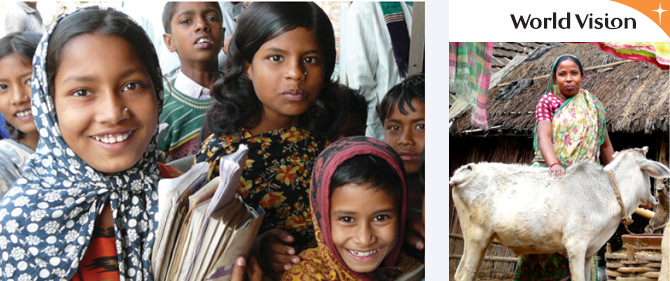 Who are World Vision?
World Vision is a Christian relief, development and advocacy organisation dedicated to working with children, families and communities to overcome poverty and injustice. Motivated by our faith in Jesus Christ, World Vision serves alongside the poor and oppressed as a demonstration of Gods unconditional love for all people. World Vision serves all people regardless of religion, race, ethnicity or gender.
Financial support is received from; the UK Government, the European Union, charitable trusts, corporate supporters and also more than 100,000 individuals, who sponsor children in poor communities overseas.
World Vision works to change the root causes of poverty through campaigning, church partnerships, education and influencing policy makers. In whatever we do, we place a special emphasis on ensuring the needs and rights of children are met, because they are often the hardest hit by conflict, disaster and chronic poverty.
How we are supporting them
World Vision is Bayard Packaging's charity of choice, and we support the Nalitabari area development project in Bangladesh.
Nalitabari is in a remote Northern province of Bangladesh where most people are subsistence farmers, struggling to grow enough food to feed their families. The people in this region are from the Garo ethnic group, a minority often neglected by the Bangladeshi government. Through training in farming methods, small business loans, skills training and literacy classes, World Vision are helping people increase their income and provide for their families. In the meantime the rogramme helps children attend school by providing essentials that parents cannot afford such as uniforms, books and medical treatment. Hope is growing in this community, and people are gradually learning the skills needed for their own development.
Some of the Bayard Packaging team visited Nalitabari in November 2007, and were impressed by the amazing work World Vision have been doing to support and equip this community, such as building bridges & schools. They also enjoyed meeting some of the sponsored children.
How you can help too...
Buy someone a gift with a difference... http://www.musthavegifts.org
And for the person on whose behalf you buy it, a Must Have Gift is more than just another piece of clutter to add to his or her life - it's a chance to make a lasting difference to someone else's.

Sponsor a Child... http://www.worldvision.org.uk
Make a difference by sponsoring a child for just 60p a day, and you will help bring about long-term benefits to the child, their family and their community.
____________________________________________________________________________________________________________________________________________________________________________________
Stoneleigh Athletic Football Club

Check out Stoneleigh Athletic Here... http://stoneleighathleticfc.clubbuzz.co.uk/
Bayard Packaging are proud to have renewed their sponsorship of Stoneleigh Athletic Football Club's Sunday Under 9's Alpha and Under12's (Surrey Youth League) for Season 2014/2015.
Pictures and links will follow so that we can see how the teams are dong this season.